In the production line of its high-pressure cleaners, the Kärcher company relies on AGV commissioning of the driverless transport vehicles by ProLog Automation. At the Kärcher plant in Obersontheim, the AGVs transport aggregates that are subsequently installed in the high-pressure cleaners. The finished units are then picked up from final assembly and distributed to one of the 8 test stations. There, they are tested by the employees according to a predefined cycle. Once testing is complete, the units are picked up by a vehicle and transported to packaging.
A major challenge in the project was the tight space conditions in the aisles for deliveries to the test stations. Here, additional VL markers made it possible to fall short of the minimum width of 2.5cm required by MiR by another 20cm. The situation is further complicated by the fact that the driveways are also used as walkways for passenger traffic; in addition, forklifts, hand pallet trucks and external AGV systems cross each other. Traffic control for the external AGV system is handled by the stationary head PLC.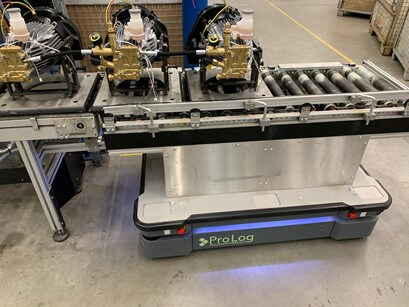 MiR-500 vehicles are used as the basis, navigating based on the natural environmental features. The vehicles were each modified with the specially designed conveyor technology. The load handling device and drives are a separate module and are controlled via a B&R PLC, which is also housed in the vehicle. Another completely new development was the AGVMulticonnect. The connector is used as middleware between MiR Fleet and external systems such as SAP and PLC to generate transport orders. Until now, it was not possible to connect SAP or PLC systems with the MiR Fleet.
The AGV MultiConnect enables a fast and economical integration of automated guided vehicles in production plants. It is a ready-to-use software. It only needs to be installed and configured. The middleware enables you to easily put into operation a coupling between SAP and / or OPC as well as the fleet manager.
Another control component is a stationary B&R PLC. This communicates with all test stations and the conveyor systems via an interface. If all conditions for a transport order are met, the PLC starts a transport order in AGV MultiConnect via the OPC UA interface. The order is stored there in an SQL database and passed directly to the MiR Fleet.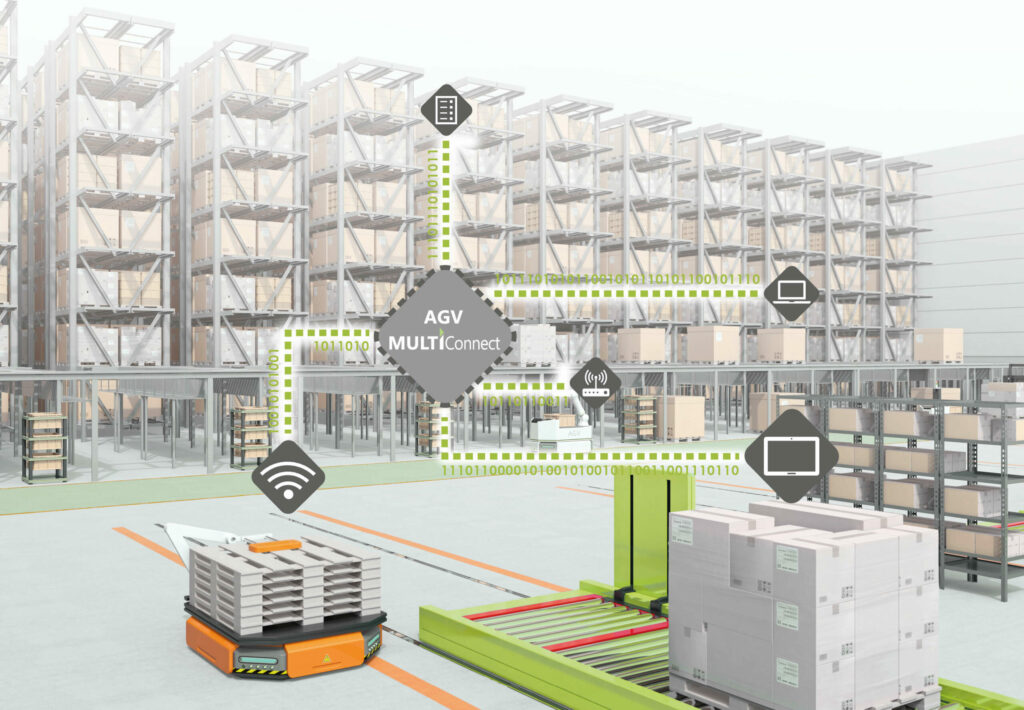 System Overview:
3x MiR 500 vehicles with two different load handling devices
12 Transfer stations
1 Fleet master computer
AGV Multiconnect
Stationary B&R PLC
3x B&R PLC in the vehicles
4x B&R OPC UA bus coupler
Interfaces: TCP/IP, Modbus, OPC UA, REST API, Digital signals
Cycle time 3 minutes in the test field